That groggy moment immediately after one is roused from a deep sleep is always filled with the odd sensation of not quite knowing whether you're still in the dream world or back to the physical. A couple of such moments will bookend this first blog entry since early 2012 (see below).
I was certain I was having one of my more bizarre dreams last week when I was confronted with a wild-haired, stark-naked woman screaming incomprehensibly at me from above. Depending upon the progression of the dream, this scenario can end up rather well or result in some nightmarish, weapon-wielding disaster. This one looked like heading into the latter territory. One usually hopes that the brain deals with these types by shooing them away and providing a more serene replacement. My brain clearly wasn't up to the task as the apparition continued yelling and, surprisingly to me, the dreamworld morphed into the reality as I discovered that my lovely wife (I need to compensate for the earlier description) seemed to be repeating, with a staccato regularity, "I can't find my passport, I can't find my passport, etc, etc…." For you musical types out there, it appeared to be in 4-4 time….
Brita was having one of her "waking up every couple of hours" nights and, this time, had started to wonder whether the Indian consular peeps had mistakenly given her the wrong visa (nothing like drowsiness to get the brain moving in odd directions). Just to make sure, she'd hauled herself out of bed to check. Being a AAA personality type, she always keeps things organized and in the same place. Well…needless to say there was no passport to be found. While I had continued to snooze happily, she'd searched everywhere she could think of in the house – to no avail. Right about this time, my nightmare started to unfold….
Hauled out of bed, I stumbled to the bathroom to brush my teeth. Why would I brush my teeth at 3am? Ahh…I might have been drowsy but still realized I needed to buy time to work out how to calm down the mad woman – who was still running around starkers with her Medusa hair! There was a lot of "breathe", "panicking is not going to help us find it", "we'll work it out – and, yes, I know we're leaving in two days", "did you remember to breathe – you're looking a tad blue"…. After five minutes of that, I pottered downstairs where the first thing I did was to look in my drawer to confirm I had MY passport (whew). Roughly about then, I hear the "Oh my god, I've found it!"…yeah, I thought to myself, that's a surprise!
I went back upstairs to find Brita implementing her new found yogic skills ("child's pose", to be specific) and hunched over on the carpet. "Umm…for some reason, it was in here…"
My freshly-brushed teeth and I went back to bed…muttering to ourselves, "for better or for worse, for better or for worse….".
A week later, here I sit in sweltering Delhi (40'ish degrees with the humidity levels implying impending rain – but not raining), after having spent a lovely few days in London, over two years since that last blog post, and over three since we started our adoption journey.
Well – for those of you who don't know (this would exclude all Facebook friends of mine or Brita's or friends of our friends, and probably friends of theirs – hence, it feels like thousands of people), the time has finally come to meet our new daughter, Rani. We get introduced to her at an orphanage in Bhubaneswar, India on Thursday morning – let the mayhem begin!
It's certainly been a long journey full of twists and turns, ranging from ridiculous decisions by the Indian central adoption agency to, initially, refer us to an orphanage that had no children under the age of 12 and, of course completely ignoring our request to be referred to an orphanage in the North-East (see previous blog post); to state adoption committees forgetting to meet for months on end, to local courts issuing orders and then going on holidays for 6 weeks before typing them up. Our host, Percy, has been incredibly helpful in sorting all this out – and, it's no exaggeration to say that, if it weren't for him, we'd have packed in this process long ago!
Now that we've got the Indians mostly under control (I know I'm tempting fate here), we're dealing with the equally (hard to believe, I know) bureaucratic types on the Canadian end. This morning provides a fine example of the latter's aspirations to compete at the top-levels of the bureaucratic Olympics. The chronology went as follows:
Arrived at Gate 1 of the Canadian High Commission – told that we needed to walk around the rather large compound to Gate 2 instead.
Arrived at Gate 2 a few sweaty minutes later – oh, says the guard – you're Canadian citizens – you need to go to Gate 1.
Arrived back at Gate 1 a few definitely sweatier minutes later – oh, says guard number 1, why are you here again? I tell him that guard number 2 sent us back and show him a letter I'd prepared with file numbers, etc….. Oh yes, adoption-related? Ahh – no, no, no…you must go to Gate number 2 and I will escort you.
Arrived back at Gate 2 for the second time, much sweatier than before and significantly more irritated. Negotiations commence between guards, hushed words and furtive glances are exchanged in our direction. They agree that this is where we should be. Tell us again, what you want? I reaffirm that all I want to do is confirm our documents have arrived and that we're still waiting for the last couple from the Indians and, finally, that I want the "medical test" package sent out to the doctor we've selected from their list.
Finally, understanding. A form is then produced. This form is to be filled out so that it can be walked to "Counter Number 5", where a woman is already sitting, so that it can then be presented to her to determine whether she will bother to see us. I should point out that this was the massive lineup that existed while all this was going on.
Form filled in while standing at the counter 5 feet away from Counter Number 5, handed to the guard who then walks those 5 feet to hand it to the afore-mentioned woman. Shortly thereafter, a booming voice comes over the public address system announcing that I should proceed to Counter Number 5.
Meet nice woman who has nothing do do with making any decisions whatsoever but solely exists to shield the people that do from anyone who might assert that those latter types could make the effort to meet with people who contribute to the tax revenue that pays their salaries. We find out that they're ok with the delays in getting them the final documents (whew) and that she can't tell us when they will send us the medical testing package. I point out that since it's coming by email, why don't they just do it now so I can confirm that I've received it in 30 seconds?. She says she can't confirm anything (even though it's a stated part of their process) without speaking to the Visa officer in charge of our file. She phones him but gets no response. Please wait outside – shouldn't be more than 30 minutes. Sweating on the park bench, sweating on the park bench, tempted to walk back their and say "just email the damn thing, you silly twits" but decide that might be counter-productive.
More sweating…ladedadeda….
Brita decides that all this sweating has not mitigated her urge to pee – she heads over and asks guard number 2 as to whether they have facilities she can use. She's told that she should cross the road and go to the park. She comes back and sits down.
Finally, finally, booming voice calls me back to the counter (still not another soul waiting in line). She confirms that the visa officer will look at the file and send us an email in due course. Really? Fortunately, she also says it should happen in the next couple of days. That dissipates my urge to yell and tell them that I'd fire them all if they worked for me… The email actually arrived a few hours later, so yelling urges have been quelled.
Called our loyal driver to come back and pick us up and, while waiting, one of the local birds decides that my head would provide a good aiming point for dropping one of its bombs. Brita, fortunately, has some tissues in her purse and entertains the masses at the bus stop across the road while wiping the offending stuff off my follicles.
As I'd been awake since 3am with the infernal jetlag, a few coffees were in order while we were in town. After falling asleep on the way home, I piled into bed for a well-needed nap.
Oh, deja vu! I was sure I was still dreaming when I heard Brita say that Percy had phoned to let us know that Rani's Indian passport had been delayed (was meant to have been issued today) because….wait for it….the local passport office had run out of the special paper they use in passports! Hahahaha…you really do have to laugh….does that really happen? With any luck, they'll find some more paper by Friday….
My new default understanding will be to remind myself that, when I'm in that groggy moment between sleep and awake, no matter how bizarre my dreams may seam, chances are that they're the reality. Now, that's a scary thought….
We're off to Bhubaneswar tomorrow so the excitement is growing. We'll meet Percy's friend, Abinash, at our hotel tomorrow evening as he's been sorting out the last details at the orphanage for us (a huge help). Then, off we go at 10am on Thursday morning for the big event….
By the way, London was great fun on the way over. We stayed with my cousin Imran and his wife, Alison, who were fantastic hosts and great conversationalists! Since everyone likes photos and this blog entry has been wordy, wordy, wordy, here are a few from our trip to get here and a couple from Percy's house in Delhi.
Au revoir, Vancouver:
Hangin' out in London:
Probably the last time Brita looks quite so put together! Hahaha….this was in Imran and Ali's lovely garden:
Percy's lovely property in South Delhi:
A couple of the galloping doggy baas (Anokhi and Chiku) on a pre-Monsoon evening: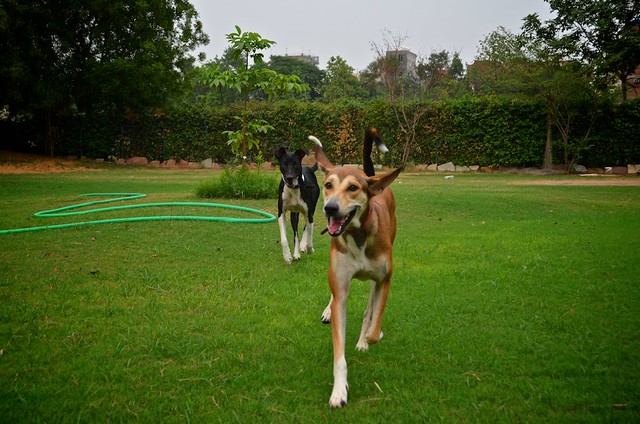 ---