That groggy moment immediately after one is roused from a deep sleep is always filled with the odd sensation of not quite knowing whether you're still in the dream world or back to the physical. A couple of such moments will bookend this first blog entry since early 2012 (see below).
I was certain I was having one of my more bizarre dreams last week when I was confronted with a wild-haired, stark-naked woman screaming incomprehensibly at me from above. Depending upon the progression of the dream, this scenario can end up rather well or result in some nightmarish, weapon-wielding disaster. This one looked like heading into the latter territory. One usually hopes that the brain deals with these types by shooing them away and providing a more serene replacement. My brain clearly wasn't up to the task as the apparition continued yelling and, surprisingly to me, the dreamworld morphed into the reality as I discovered that my lovely wife (I need to compensate for the earlier description) seemed to be repeating, with a staccato regularity, "I can't find my passport, I can't find my passport, etc, etc…." For you musical types out there, it appeared to be in 4-4 time….
Brita was having one of her "waking up every couple of hours" nights and, this time, had started to wonder whether the Indian consular peeps had mistakenly given her the wrong visa (nothing like drowsiness to get the brain moving in odd directions). Just to make sure, she'd hauled herself out of bed to check. Being a AAA personality type, she always keeps things organized and in the same place. Well…needless to say there was no passport to be found. While I had continued to snooze happily, she'd searched everywhere she could think of in the house – to no avail. Right about this time, my nightmare started to unfold….
Hauled out of bed, I stumbled to the bathroom to brush my teeth. Why would I brush my teeth at 3am? Ahh…I might have been drowsy but still realized I needed to buy time to work out how to calm down the mad woman – who was still running around starkers with her Medusa hair! There was a lot of "breathe", "panicking is not going to help us find it", "we'll work it out – and, yes, I know we're leaving in two days", "did you remember to breathe – you're looking a tad blue"…. After five minutes of that, I pottered downstairs where the first thing I did was to look in my drawer to confirm I had MY passport (whew). Roughly about then, I hear the "Oh my god, I've found it!"…yeah, I thought to myself, that's a surprise!
I went back upstairs to find Brita implementing her new found yogic skills ("child's pose", to be specific) and hunched over on the carpet. "Umm…for some reason, it was in here…"
My freshly-brushed teeth and I went back to bed…muttering to ourselves, "for better or for worse, for better or for worse….".
A week later, here I sit in sweltering Delhi (40'ish degrees with the humidity levels implying impending rain – but not raining), after having spent a lovely few days in London, over two years since that last blog post, and over three since we started our adoption journey.
Well – for those of you who don't know (this would exclude all Facebook friends of mine or Brita's or friends of our friends, and probably friends of theirs – hence, it feels like thousands of people), the time has finally come to meet our new daughter, Rani. We get introduced to her at an orphanage in Bhubaneswar, India on Thursday morning – let the mayhem begin!
It's certainly been a long journey full of twists and turns, ranging from ridiculous decisions by the Indian central adoption agency to, initially, refer us to an orphanage that had no children under the age of 12 and, of course completely ignoring our request to be referred to an orphanage in the North-East (see previous blog post); to state adoption committees forgetting to meet for months on end, to local courts issuing orders and then going on holidays for 6 weeks before typing them up. Our host, Percy, has been incredibly helpful in sorting all this out – and, it's no exaggeration to say that, if it weren't for him, we'd have packed in this process long ago!
Now that we've got the Indians mostly under control (I know I'm tempting fate here), we're dealing with the equally (hard to believe, I know) bureaucratic types on the Canadian end. This morning provides a fine example of the latter's aspirations to compete at the top-levels of the bureaucratic Olympics. The chronology went as follows:
Arrived at Gate 1 of the Canadian High Commission – told that we needed to walk around the rather large compound to Gate 2 instead.
Arrived at Gate 2 a few sweaty minutes later – oh, says the guard – you're Canadian citizens – you need to go to Gate 1.
Arrived back at Gate 1 a few definitely sweatier minutes later – oh, says guard number 1, why are you here again? I tell him that guard number 2 sent us back and show him a letter I'd prepared with file numbers, etc….. Oh yes, adoption-related? Ahh – no, no, no…you must go to Gate number 2 and I will escort you.
Arrived back at Gate 2 for the second time, much sweatier than before and significantly more irritated. Negotiations commence between guards, hushed words and furtive glances are exchanged in our direction. They agree that this is where we should be. Tell us again, what you want? I reaffirm that all I want to do is confirm our documents have arrived and that we're still waiting for the last couple from the Indians and, finally, that I want the "medical test" package sent out to the doctor we've selected from their list.
Finally, understanding. A form is then produced. This form is to be filled out so that it can be walked to "Counter Number 5", where a woman is already sitting, so that it can then be presented to her to determine whether she will bother to see us. I should point out that this was the massive lineup that existed while all this was going on.
Form filled in while standing at the counter 5 feet away from Counter Number 5, handed to the guard who then walks those 5 feet to hand it to the afore-mentioned woman. Shortly thereafter, a booming voice comes over the public address system announcing that I should proceed to Counter Number 5.
Meet nice woman who has nothing do do with making any decisions whatsoever but solely exists to shield the people that do from anyone who might assert that those latter types could make the effort to meet with people who contribute to the tax revenue that pays their salaries. We find out that they're ok with the delays in getting them the final documents (whew) and that she can't tell us when they will send us the medical testing package. I point out that since it's coming by email, why don't they just do it now so I can confirm that I've received it in 30 seconds?. She says she can't confirm anything (even though it's a stated part of their process) without speaking to the Visa officer in charge of our file. She phones him but gets no response. Please wait outside – shouldn't be more than 30 minutes. Sweating on the park bench, sweating on the park bench, tempted to walk back their and say "just email the damn thing, you silly twits" but decide that might be counter-productive.
More sweating…ladedadeda….
Brita decides that all this sweating has not mitigated her urge to pee – she heads over and asks guard number 2 as to whether they have facilities she can use. She's told that she should cross the road and go to the park. She comes back and sits down.
Finally, finally, booming voice calls me back to the counter (still not another soul waiting in line). She confirms that the visa officer will look at the file and send us an email in due course. Really? Fortunately, she also says it should happen in the next couple of days. That dissipates my urge to yell and tell them that I'd fire them all if they worked for me… The email actually arrived a few hours later, so yelling urges have been quelled.
Called our loyal driver to come back and pick us up and, while waiting, one of the local birds decides that my head would provide a good aiming point for dropping one of its bombs. Brita, fortunately, has some tissues in her purse and entertains the masses at the bus stop across the road while wiping the offending stuff off my follicles.
As I'd been awake since 3am with the infernal jetlag, a few coffees were in order while we were in town. After falling asleep on the way home, I piled into bed for a well-needed nap.
Oh, deja vu! I was sure I was still dreaming when I heard Brita say that Percy had phoned to let us know that Rani's Indian passport had been delayed (was meant to have been issued today) because….wait for it….the local passport office had run out of the special paper they use in passports! Hahahaha…you really do have to laugh….does that really happen? With any luck, they'll find some more paper by Friday….
My new default understanding will be to remind myself that, when I'm in that groggy moment between sleep and awake, no matter how bizarre my dreams may seam, chances are that they're the reality. Now, that's a scary thought….
We're off to Bhubaneswar tomorrow so the excitement is growing. We'll meet Percy's friend, Abinash, at our hotel tomorrow evening as he's been sorting out the last details at the orphanage for us (a huge help). Then, off we go at 10am on Thursday morning for the big event….
By the way, London was great fun on the way over. We stayed with my cousin Imran and his wife, Alison, who were fantastic hosts and great conversationalists! Since everyone likes photos and this blog entry has been wordy, wordy, wordy, here are a few from our trip to get here and a couple from Percy's house in Delhi.
Au revoir, Vancouver:
Hangin' out in London:
Probably the last time Brita looks quite so put together! Hahaha….this was in Imran and Ali's lovely garden:
Percy's lovely property in South Delhi:
A couple of the galloping doggy baas (Anokhi and Chiku) on a pre-Monsoon evening: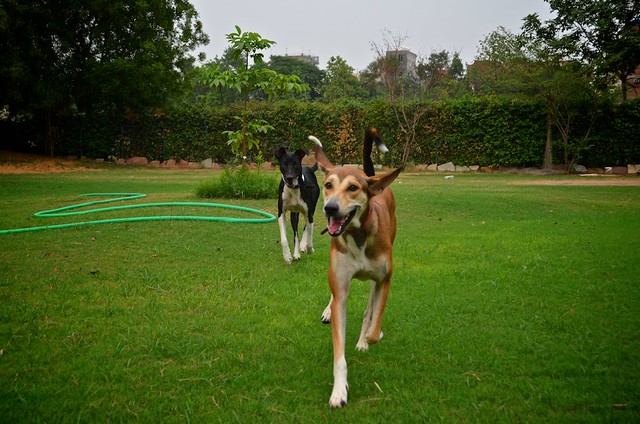 ---
So…we have good news! After far too many days of me injecting her with hypodermic syringes, a Baker's Dozen of eggs plus one (ie. 14), were extracted from Brita on Saturday afternoon. Of these, we were told (24 hours later) that 10 of them had fertilized – which is a pretty good percentage. As of 48 hours into their petrie dish holiday, 8 were still going strong. We should be hearing one further update before we hop on the plane this evening. The plan is to keep them swimming away in the petrie dish for 4 or 5 days (depending upon quality of the embryos), then choose the best to insert into Leena. We should know the results (hopefully, a positive pregnancy test) by December 21st or so… Fingers crossed!
The Adiva Clinic in Delhi touts itself as being a "world class" institution – no doubt, to soothe the frantic nerves of any westerner who is considering crossing its threshold. From our experience, this is well, at best, a hope and a prayer, rather than the reality. There is no question that the medical expertise (at least, with our Dr. Banerjee) is as good as you're going to find anywhere. She gets a ringing, unreserved, endorsement! The rest of the experience, on the other hand (comparing it to our previous experience at PCRM in Vancouver), doesn't come remotely close to a top clinic in the West. In other words, if you're going to go…expect India with all its madness…and you'll be fine!
Frankly, the place is completely chaotic and, for the most part, the staff seems to only have a vague understanding of what's going on and when. Almost nothing of detail is communicated in advance and, when it is, rarely is any context provided for what needs to be done and why. I suppose part of the problem is that many of them don't speak English, which would be fine if the target market was mainly local – but crazy if attracting foreigners is the objective. Brita had some "fun" herself – so check out her latest blog entry for details. My experience was mostly about waiting (hours….) interspersed with providing my "genetic contribution" in somewhat trying circumstances. While Brita was getting her prep-work done, I was signing, for about the 3rd time, the same set of consent documents which I'd reviewed about 30 minutes earlier. Apart from the fact that they should be presenting you with these documents a couple of weeks earlier (when the hormone stimulation was started) rather than when the extraction is about to commence and you have no option but to sign…., they insisted on signatures appearing in places where the documents didn't even call for them…ahh well.
I can live with disorganized documents but the "contribution" experience certainly didn't leave me looking for a satisfactory cigarette. One of the staff beckoned me over to his office and handed me a sealed plastic collection container and asked me to write our names on the label (try doing this when it's already stuck onto the container). Then, he escorted me next door (to the scary looking room mentioned in the last post). It turns out that this room is only the outer room – the real action happens behind the inner door. By the way, the hallway outside was lined with interested spectators with nothing much to do except cheer on the hapless participants. Back to the narrative: the inner door was locked when we arrived. So…instead of assuming that someone might be "busy", he proceeded to wiggle the handle and bang on the door…repeatedly! This, as you can imagine, did not do anything for my confidence that I would be left in a serene state myself. Finally, he gave up…suggested I just wait until whoever it was came out and then left me to lean casually in the doorway, nodding politely to the peanut gallery. A quick game of "Madden NFL" on the iPhone seemed in order…
Finally, the inner sanctuary opened and, much to my surprise, out walked a woman. No idea WHAT she was doing in there… So…in I went, expecting (half-heartedly, I must admit) to find the usual paraphernalia one finds when required to perform in such unusual circumstances. No such luck! Instead, I found a small bed with rumpled sheets (ugh), a small tv with a DVD player (empty)…and an attached bathroom. The only upside was that the contraption with the stirrups was safely in the outer room. That about covers the visual landscape but it does nothing to provide an impression of the soundscape which enveloped every corner of this small heaven. Bollywood music thumped from the left, loud voices of clerks came from the right, shrill complaints of waiting patients & families trailed in from behind. They all seemed to reside in a slightly different octave from each other so one got the impression one was living Pink Floyd's "wall of sound". Having said all that, performance was imperative, so I locked the door and told myself that any distractions were mere crumbs to be ground under my feet! Focus needed to be the order of the day so I set off (metaphorically) on the path….and all was going to plan…until…bang, bang, bank, knock, knock, knock….wiggle the doorknob, wiggle the doorknob, bang, bang, bang! Seriously! A loud "HELLO!", followed by an "OI!", and an "EXCUSE ME" followed in rapid succession from my lips. A "BUGGER OFF YOU IDIOT" was waiting in the wings should another volley of knocking have commenced. Fortunately, for both me and the fool outside, there were no further intrusions into my karmic space and, having done my best to eradicate all hostile thoughts, and summoned every meditation trick I could remember, I managed to produce the medically required stuff in record time. Needless to say, I was not in the usual blissful mood usually experienced after such exertions when I emerged from the inner sanctum. Of course, the outer door was wide open and my fascinated fans were all agog at my re-emergence. On top of that, the guy who'd provided me with the sample container had gone for lunch (& no one had replaced him) so I had to hunt down someone else to ensure that the valuables were properly put away in readiness for completing their fertilization duties… Mind-boggling!
Shortly after I'd found a seat in an incredibly crowded lobby (I find it amazing that entire families seem to accompany a patient to this clinic – so, of course, there's almost nowhere to sit), Brita showed up in a hospital gown (and a most attractive cap). I don't know who designed this building but walking prepped patients through a crowded lobby seems like a particularly daft idea. At least I could confirm to her that I'd done my bit and she whispered something about an odd barber experience she'd just endured (see her blog for details). Then ensued a few hours of reading & playing games on the iPhone while observing all sorts of entertainment in the lobby – complaining patients, a kid attempting a cartwheel, what seemed like a family reunion…frankly, I was expecting a herd of goats to pop by at any moment. Why they can't restrict visitors to one or two per patient, especially with limited seating, I have no idea. Here's a little snippet of the view from my top-secret spy cam:
A couple of hours later, I was told to pop into one of the ground-floor offices where Dr. Banerjee would join me shortly to provide an update. She turned up about 10 minutes later and gave me the good news of the 14 eggs that had been retrieved plus instructions for Brita's post-operation medication. What I didn't know at the time was that, while the good Dr. B and I were discussing eggs and meds, Brita had been rolled out of the Operating Theatre, down the elevator, and out into the, now famous, lobby. She, in her half-drugged state, was, fortunately, quite amused at this since we'd seen exactly the same scene being played out with a distraught American woman just a couple of days earlier. The attendants, like on that occasion, seemed to be completely confused as to what to do with the patient and, eventually, after the attendant crowds had seen their fill, wheeled her back into the elevator and took her upstairs. What's amazing was that we'd mentioned the American woman's experience to Dr. Banerjee who had, immediately, phoned the responsible party and told them that anything like that was completely inappropriate and shouldn't happen again. Yet, here we were only two days later….maybe that's why the crowds show up! Brita tells me she was peering around in her hazy state looking, in vain, to see where I was- no doubt ready to pose for a pic!
I was finally summoned to go and see the recovering patient about an hour later – when she was actually in a rather decent recovery room. God knows why she'd had to have the building tour first, but she was looking quite chipper when I found her:
A celebration was definitely in order once we heard that all had been successful. Brita was feeling a bit "off" after the surgery so she stayed in bed while I went off to check out the Asian Tour Event (the Delhi Open) being played at the Delhi Golf Club. This was Englishman Paul McGinley teeing off in front of some of the very cool monuments the golf course is built around.
There's plenty of wildlife around the course (I gather cobras are considered a hazard in the jungle – but not sure how many penalty strokes one gets) but the most colourful of the bunch has got to be this fellow and his kin.
That evening Percy treated us (and Aprajita) to a fabulous dinner at a fusion restaurant called the Indian Accent (it's in a boutique hotel called The Manor). The food, and the company, of course, was terrific! I do have to mention one particular appetizer for which I hold a particularly fond spot. A popular street food in Calcutta is the "Puchka". These are puffed, crispy balls stuffed with a spicy mixture (usually potato based), then filled with a tamarind-like sauce. You pop the whole thing in your mouth…and wait for the flavour to explode! Given my immune system has long-ago given up any hope of surviving an experience with Calcutta street food, imagine my delight when a seriously up-market version showed up on the Indian Accent menu! They were awesome!
It's time to hit the road on the long flights home. First, a 5 hour jaunt to Shanghai, then another 10+ to Vancouver. Somehow, I seem to have started to catch a cold before I get on the plane, rather than after! Here's hoping I can leave it on this side of the International Date Line…
[Editor's Note: Hot off the press…the 8 little buggers are still going strong on Day 3…woohoo!]
---