Last evening I used all the skills and mental capacities I've developed over the course of my legal and business career to negotiate the cost of dry cleaning one stuffed elephant – who goes by the name of Horton.
This occurred in the reception area of the rather lovely Mayfair Lagoon Hotel in Bhubaneswar, India and came about because Horton had spent the previous 24 hours at a local orphanage. Various important issues had to be canvassed before resolution was at hand: was this a mere "hathi" (elephant) or actually a Ganesha; if not a deity (I argued that he was a Canadian elephant so more prone to lumberjacking than being the object of worship), then was laundering better than dry-cleaning; what category should he occupy on the long list of the hotel's laundering options. It turned out that he's the equivalent of a little girl's dress (ie. Rs. 200 or $3.55) – that seemed like a decent win-win resolution for all concerned. Horton, in the meantime, sat observing all this from his perch on the counter, while one fellow checking-in inquired as to whether the hotel was handing out these fine specimens for free.
Of course, there is a reason for this elephantine lead-up – Horton was about to descend into the bowels of the hotel's laundry because we'd left him overnight with Rani after our first visit to the orphanage the previous day…and it was highly likely that some of the local lice population may have decided to emigrate.
So, as many of you Facebook-types know, we met our new daughter for the first time on Thursday of this week. I wouldn't be being honest if I didn't say we were excited but apprehensive at the same time. It helped hugely to have Abinash (I've dubbed him the "Fixer") come and have a drink with us the previous evening and tell us how great Rani was when he met her six months ago. Abinash has been helping throughout this process on the Indian side – ushering forward movement in government agencies, working with the orphanage, etc… He's done a brilliant job – so lot's of thanks are owed to him. Nevertheless, given what we learned about transplanted children during an 8-week course we'd completed at home, our expectations of instant connection and happiness were very low.
Sure enough, a whole bunch of kids were lined up to meet us when we rolled in – and the least excited of them all was Rani. Apparently, this is the opposite of her normal behaviour so we think Mr. Mohanty (the head dude at the orphanage) was slightly embarrassed by this uncharacteristic display. We, on the other hand, were expecting it – so it was all running to script as far as we could tell. Even after the provision of a couple of gifts for her – a fuzzy rubber ball and Horton, we didn't see much change over the first hour or so. Here she is with Brita around that time.
As with most things (ok, that's probably a bit of an exaggeration), tickling breaks the ice! I didn't know that but Brita did! Once the giggles started up, the change was amazing. There was constant smiling, asking to sit on laps, wanting to play, wanting to show us off to her friends – an incredible transformation! Some of these will give you an idea.
I particularly love this one:

We ended up spending half the day with her and left letting her know that we'd be back tomorrow – much excitement ensued. Our relief was palpable on the way home!
You never know what a few hours will bring but when we arrived at the orphanage on Friday, all the previous day's enthusiasm was still there on Rani's part. She came running across the courtyard in the pouring rain to meet us and then ran off (beckoning us to follow) so that she could tell her caregiver that her "parents had arrived". A damn fine start, thought I! She was even visibly miffed when we paid attention to any of the other kids – clearly, the adoption of us had begun…
Abinash and Mr. Mohanty went off to the passport office to check on the status of the missing booklets while we had a nice lunch with Rani and the staff. Al fresco, I might add…
Our intrepid investigators of all matters passport returned with some not so good news. No sign of the new passport booklets – meaning returning to Delhi this Sunday is not going to work (they wouldn't let Rani onto the plane without photo id of some sort). Apparently, these booklets are already 8 days late – something which hasn't happened in the 20 years the passport official has been running this office. Not only that – but it looks like all the passport offices around the country have the same problem. Abinash flew back to Delhi to see what's what via his contacts at the Ministry of External Affairs – but who knows??? We've rebooked our flights and are now returning to Delhi 6 days later in the hope that this gets resolved next week. The only consolation is that this is a really nice place in the midst of some amazing warm downpours (which I love) and I can still courier the other documents to the Canadian High Commission. With any luck, this delay won't change our timing for heading back to Canada.
Back to the matter at hand, and I'm writing this on Saturday evening which is just over 24 hours since we brought Rani home – WOW! I have to take my hat off to the orphanage – they've done a splendid job raising this little girl from when they got her at age 1 to almost 4. All those danger signs we were warned to look for in transplanted kids (eg. not making eye contact, acting out, etc…) seem not to be there at all. She's been amazing! Sleeps through the night completely, loves her cuddles, has learned to eat with a spoon and fork already, asks when she needs to go the bathroom, seems to feel and express happiness & sadness (ie. a range of emotions)…hooray! Fingers crossed but so far she seems incredibly well adjusted, laid back and open to all sorts of new things. Given what we observed, she was certainly well-loved, taught, and prepared for new parents at SMSS. We're very grateful for the job they did.
Oh yeah – she did have some lice on her when we brought her back so Horton had to suffer dry cleaning activities very early in his life. He's now curled up with Rani in her cot. We and Rani are lice free after the application of appropriately hellish chemical substances in our hair.
Tomorrow – we find out if she'll dip a toe into the swimming pool.
---
That groggy moment immediately after one is roused from a deep sleep is always filled with the odd sensation of not quite knowing whether you're still in the dream world or back to the physical. A couple of such moments will bookend this first blog entry since early 2012 (see below).
I was certain I was having one of my more bizarre dreams last week when I was confronted with a wild-haired, stark-naked woman screaming incomprehensibly at me from above. Depending upon the progression of the dream, this scenario can end up rather well or result in some nightmarish, weapon-wielding disaster. This one looked like heading into the latter territory. One usually hopes that the brain deals with these types by shooing them away and providing a more serene replacement. My brain clearly wasn't up to the task as the apparition continued yelling and, surprisingly to me, the dreamworld morphed into the reality as I discovered that my lovely wife (I need to compensate for the earlier description) seemed to be repeating, with a staccato regularity, "I can't find my passport, I can't find my passport, etc, etc…." For you musical types out there, it appeared to be in 4-4 time….
Brita was having one of her "waking up every couple of hours" nights and, this time, had started to wonder whether the Indian consular peeps had mistakenly given her the wrong visa (nothing like drowsiness to get the brain moving in odd directions). Just to make sure, she'd hauled herself out of bed to check. Being a AAA personality type, she always keeps things organized and in the same place. Well…needless to say there was no passport to be found. While I had continued to snooze happily, she'd searched everywhere she could think of in the house – to no avail. Right about this time, my nightmare started to unfold….
Hauled out of bed, I stumbled to the bathroom to brush my teeth. Why would I brush my teeth at 3am? Ahh…I might have been drowsy but still realized I needed to buy time to work out how to calm down the mad woman – who was still running around starkers with her Medusa hair! There was a lot of "breathe", "panicking is not going to help us find it", "we'll work it out – and, yes, I know we're leaving in two days", "did you remember to breathe – you're looking a tad blue"…. After five minutes of that, I pottered downstairs where the first thing I did was to look in my drawer to confirm I had MY passport (whew). Roughly about then, I hear the "Oh my god, I've found it!"…yeah, I thought to myself, that's a surprise!
I went back upstairs to find Brita implementing her new found yogic skills ("child's pose", to be specific) and hunched over on the carpet. "Umm…for some reason, it was in here…"
My freshly-brushed teeth and I went back to bed…muttering to ourselves, "for better or for worse, for better or for worse….".
A week later, here I sit in sweltering Delhi (40'ish degrees with the humidity levels implying impending rain – but not raining), after having spent a lovely few days in London, over two years since that last blog post, and over three since we started our adoption journey.
Well – for those of you who don't know (this would exclude all Facebook friends of mine or Brita's or friends of our friends, and probably friends of theirs – hence, it feels like thousands of people), the time has finally come to meet our new daughter, Rani. We get introduced to her at an orphanage in Bhubaneswar, India on Thursday morning – let the mayhem begin!
It's certainly been a long journey full of twists and turns, ranging from ridiculous decisions by the Indian central adoption agency to, initially, refer us to an orphanage that had no children under the age of 12 and, of course completely ignoring our request to be referred to an orphanage in the North-East (see previous blog post); to state adoption committees forgetting to meet for months on end, to local courts issuing orders and then going on holidays for 6 weeks before typing them up. Our host, Percy, has been incredibly helpful in sorting all this out – and, it's no exaggeration to say that, if it weren't for him, we'd have packed in this process long ago!
Now that we've got the Indians mostly under control (I know I'm tempting fate here), we're dealing with the equally (hard to believe, I know) bureaucratic types on the Canadian end. This morning provides a fine example of the latter's aspirations to compete at the top-levels of the bureaucratic Olympics. The chronology went as follows:
Arrived at Gate 1 of the Canadian High Commission – told that we needed to walk around the rather large compound to Gate 2 instead.
Arrived at Gate 2 a few sweaty minutes later – oh, says the guard – you're Canadian citizens – you need to go to Gate 1.
Arrived back at Gate 1 a few definitely sweatier minutes later – oh, says guard number 1, why are you here again? I tell him that guard number 2 sent us back and show him a letter I'd prepared with file numbers, etc….. Oh yes, adoption-related? Ahh – no, no, no…you must go to Gate number 2 and I will escort you.
Arrived back at Gate 2 for the second time, much sweatier than before and significantly more irritated. Negotiations commence between guards, hushed words and furtive glances are exchanged in our direction. They agree that this is where we should be. Tell us again, what you want? I reaffirm that all I want to do is confirm our documents have arrived and that we're still waiting for the last couple from the Indians and, finally, that I want the "medical test" package sent out to the doctor we've selected from their list.
Finally, understanding. A form is then produced. This form is to be filled out so that it can be walked to "Counter Number 5", where a woman is already sitting, so that it can then be presented to her to determine whether she will bother to see us. I should point out that this was the massive lineup that existed while all this was going on.
Form filled in while standing at the counter 5 feet away from Counter Number 5, handed to the guard who then walks those 5 feet to hand it to the afore-mentioned woman. Shortly thereafter, a booming voice comes over the public address system announcing that I should proceed to Counter Number 5.
Meet nice woman who has nothing do do with making any decisions whatsoever but solely exists to shield the people that do from anyone who might assert that those latter types could make the effort to meet with people who contribute to the tax revenue that pays their salaries. We find out that they're ok with the delays in getting them the final documents (whew) and that she can't tell us when they will send us the medical testing package. I point out that since it's coming by email, why don't they just do it now so I can confirm that I've received it in 30 seconds?. She says she can't confirm anything (even though it's a stated part of their process) without speaking to the Visa officer in charge of our file. She phones him but gets no response. Please wait outside – shouldn't be more than 30 minutes. Sweating on the park bench, sweating on the park bench, tempted to walk back their and say "just email the damn thing, you silly twits" but decide that might be counter-productive.
More sweating…ladedadeda….
Brita decides that all this sweating has not mitigated her urge to pee – she heads over and asks guard number 2 as to whether they have facilities she can use. She's told that she should cross the road and go to the park. She comes back and sits down.
Finally, finally, booming voice calls me back to the counter (still not another soul waiting in line). She confirms that the visa officer will look at the file and send us an email in due course. Really? Fortunately, she also says it should happen in the next couple of days. That dissipates my urge to yell and tell them that I'd fire them all if they worked for me… The email actually arrived a few hours later, so yelling urges have been quelled.
Called our loyal driver to come back and pick us up and, while waiting, one of the local birds decides that my head would provide a good aiming point for dropping one of its bombs. Brita, fortunately, has some tissues in her purse and entertains the masses at the bus stop across the road while wiping the offending stuff off my follicles.
As I'd been awake since 3am with the infernal jetlag, a few coffees were in order while we were in town. After falling asleep on the way home, I piled into bed for a well-needed nap.
Oh, deja vu! I was sure I was still dreaming when I heard Brita say that Percy had phoned to let us know that Rani's Indian passport had been delayed (was meant to have been issued today) because….wait for it….the local passport office had run out of the special paper they use in passports! Hahahaha…you really do have to laugh….does that really happen? With any luck, they'll find some more paper by Friday….
My new default understanding will be to remind myself that, when I'm in that groggy moment between sleep and awake, no matter how bizarre my dreams may seam, chances are that they're the reality. Now, that's a scary thought….
We're off to Bhubaneswar tomorrow so the excitement is growing. We'll meet Percy's friend, Abinash, at our hotel tomorrow evening as he's been sorting out the last details at the orphanage for us (a huge help). Then, off we go at 10am on Thursday morning for the big event….
By the way, London was great fun on the way over. We stayed with my cousin Imran and his wife, Alison, who were fantastic hosts and great conversationalists! Since everyone likes photos and this blog entry has been wordy, wordy, wordy, here are a few from our trip to get here and a couple from Percy's house in Delhi.
Au revoir, Vancouver:
Hangin' out in London:
Probably the last time Brita looks quite so put together! Hahaha….this was in Imran and Ali's lovely garden:
Percy's lovely property in South Delhi:
A couple of the galloping doggy baas (Anokhi and Chiku) on a pre-Monsoon evening: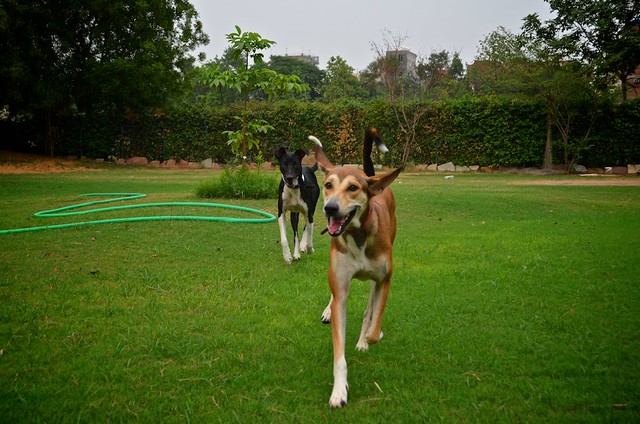 ---
There's nothing like a bit of R&R to get the writing juices flowing again – and glorious Maui is just the place to do it. Simply stepping off the plane is enough to allow yogic deep breathing to come to you without effort. I really have to work out how to make a living while spending 4 or 5 months of every year here. When I say "here", I don't mean the touristy hells of Kihei or Kaanapali. Rather, get me to the gorgeous areas on the slopes of Haleakala, surrounded by verdant growth, "surfing" goats producing cheese, Buddha-infested lavender farms, etc…. We've stayed in the area twice now and it has completely won us over! Here's our friendly Buddha surveying the vista below him:
Not to create too obvious a segue, the Buddha's approach to life has been somewhat similar to ours since the last blog post went up on December 2010. Perhaps that's a bit of stretch but we've tried to take life as it comes and focus on the things we can control rather than getting stressed about what we can't. We've both changed jobs and have moved on from the idea that we're going to be able to produce offspring ourselves. Brita's thrilled with her one-year contract with Vancity (she's in charge of their community engagement) and I'm now running a public company focussed on investments in energy-efficient green technologies.
We've also decided we're going to adopt!
Actually, we made the adoption decision about a year ago but (good thing we're being Buddha-like), it's taken until last week before our application was submitted. It might be that spending large amounts of time in the sun has addled our brains, but we've decided to stick with India as the fulcrum of our efforts. Not surprisingly, in the year since the decision, there's been a fair amount of "what to do's" and "WTFs". We'd gone through all the home visits (8); put together reams of information on income and banking; explained why Brita likes gardening better than arithmetic; why Macs are better than PCs; and many other highly consequential bits of information on our not terribly-exciting lives (must admit, I forgot to mention that Twitter is the best thing ever!)…so that we were ready to have the whole lot submitted by July. Inevitably, the Indian central adoption agency decided that they had far too much of a backlog (500) to possibly take any further applications…until September 30th. A collective "oy vey" was uttered but what's a couple of months in the grand scheme of things. Of course, we knew better and, sure enough, September 30th became December 31st…then January 31st.
Miraculously, January 31st has held up but things are never as simple as they seem. The Indians have completely changed the system (of course, they announced this only a few days before they opened up applications). Now, everything must be submitted over the web on the first of every month – BUT they will only accept 100 new applications per month. Given the entire process has been shut down for 7 months, I could only imagine getting ours in as part of the first 100 was going to be a bit of a lottery. Fortunately, I gave our agency a call and reminded them that 10am Indian Standard Time was actually 8:30pm the evening before in Vancouver. Good old Fonnie stayed late at the office and hit the "submit" button on the nose of 8:30pm on January 31st….and much to everyone's amazement, we made it into the first batch.
So…we're in – a huge step!
We've asked to adopt from a remote Indian state (Mizoram) which is actually located between Bangladesh & Burma. Kids from this area, apparently, have a difficult time getting adopted as they don't look particularly Indian. Since one has to have a connection to the country to adopt (except in very limited circumstances) and there seems to be a social stigma (amongst Indians) about admitting that their children are adopted, kids from Mizoram haven't been very popular. We have no such issues, so bring 'em on we say!
Since no one (including us) had a clue where Mizoram is, here's Google leaping to the rescue:
Who knows what other mayhem will ensue once we get into the process but, at least, we've wedged a foot in the proverbial door! I'm sure it'll be worth the wait. Here's an example of kids from the area…cute!
Will update when we hear more… In the meantime, the Maui sun is spectacular…especially with Brita in the pic!
---